Proximity sensors provide non-contact detection of a wide variety of objects and media. SICK's sensors are perfectly suited to industrial applications and requirements. SICK's capacitive and magnetic proximity sensors offer a long service life, extreme ruggedness and the utmost precision. SICK intelligently and reliably solves industry-specific and individual automation tasks.
Capacitive proximity sensors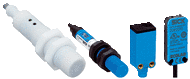 Sometimes you just need to know what is hidden behind a surface. For example, behind a wall or cover, or what is inside in a storage container or shipping container. Capacitive proximity sensors are ideal for level and feed monitoring. From solid material, such as paper or wood, to granules or liquids, they reliably detect the status of the product during the production process and final inspection. Is there something behind that cover? Is the filled package really full? How much paint is still left in the tank? For capacitive proximity sensors, these are easy questions to answer. Capacitive proximity sensors from SICK are never far from the action. Sensing ranges between 1 and 25 mm allow them to be used in nearly all installation situations, making them extremely adaptable for a wide range of applications. These sensors are also remarkably resistant to faults. Impurities, contamination, dust, and airborne spray particles have little effect on them, nor does electromagnetic interference. No wonder they are installed in a wide range of industries, such as food, automotive, or in storage and conveyor systems.
Magnetic proximity sensors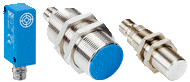 SICK offers an extensive portfolio of magnetic proximity sensors in metric (MM) and rectangular (MQ) configurations. Magnetic proximity sensors provide long sensing ranges that can reliably detect magnetic objects, with entirely new application options opened up due to the smaller magnets. MM sensors in NAMUR design for the use in explosion-hazardous areas complete this comprehensive product family. MQ sensors offer all the advantages of a magnetic proximity sensor in a compact plastic housing. Magnetic proximity sensors are designed specifically for use in harsh environments and are unaffected by dust, heat, or vibrations. Typical fields of application are also those where other sensors reach the limits of their technology.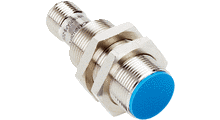 MM
Types: M8 to M18
Sensing range: up to 120 mm
Electrical configuration: DC 3-wire
Enclosure rating: IP 67
Temperature range: –25 °C to +75 °C
Nickel-plated brass housing; plastic sensing face
Reliable detection of permanent magnets through non-ferromagnetic materials such as stainless steel, aluminum, plastic or wood
Solves high-temperature applications by installing the permanent magnet in the high-temperature area and the sensor behind an insulated area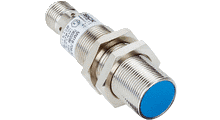 MM Namur
Types: M12 to M18
Sensing range: up to 120 mm
Electrical configuration: NAMUR
Enclosure rating: IP 67
Temperature range: –25 °C to +70 °C
Nickel-plated brass housing; plastic sensing face
Reliable detection of permanent magnets through non-ferromagnetic materials such as stainless steel, aluminum, plastic or wood
NAMUR design for usage in explosion-hazardous areas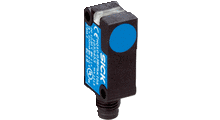 MQ
Type: 10 mm x 28 mm x 16 mm
Sensing ranges: up to 60 mm
Electrical configuration: DC, 3-wire
Enclosure rating: IP 67
Temperature range: –25 °C to +75 °C
Tough VISTAL™ housing
Reliable detection of permanent magnets through non-ferromagnetic materials such as stainless steel, aluminum, plastic or wood
Solves high-temperature applications by installing the permanent magnet in the high-temperature area and the sensor behind an insulated area
More Sick products: