SICK has a wide range of optic and ultrasonic solutions that measure from sub-microns to kilometers. They solve measuring, detecting and positioning applications using triangulation and time-of-flight modes. Sensors using triangulation are ideal for short-range, highly precise measurement. They can inspect miniature parts, thickness and shape, etc. Time-of-flight sensors work at longer distances, are not influenced by reflectivity or ambient light − perfect for positioning AS/RS, rail cars and gantry cranes.
Advantages

From micron to mile – at home in any space
Automation is forging ahead in all areas of industry with no sign of stopping. And right at the forefront are distance sensors and detection and ranging solutions from SICK. As intelligent sources of data, they deliver precise information for nearly any application. Over any distance, in all environments. Equipped with highly developed technologies and diverse interfaces. Discover a unique range of services unparalleled throughout the world which unites comprehensive knowledge and extraordinary capacity for innovation. Comprehensive performance and boundless flexibility – combined for your success.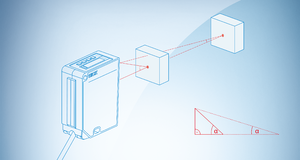 Laser triangulation
Triangulation is based on distance measurement through angle calculation. The sensor projects a light spot onto the object to be detected. The light reflected from the object hits the receiver array of the sensor at an angle that depends on the distance. The distance of the object is determined based on the position of the light spot on the receiver element.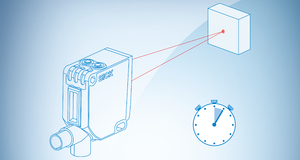 Optical time-of-flight
In time-of-flight measurement (optical time-of-flight), the distance between the sensor and object is derived from the measured time which passes between when the sensor emits the light pulse (laser diode, LED, …) and the reflection returns back to the receiver.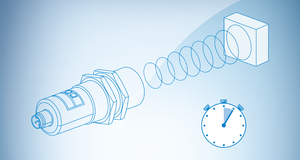 Ultrasonic time of flight
With the time-of-flight measurement with ultrasonics, the sensor emits an acoustic pulse that is reflected by the object being detected. The time required for the pulse to go from the sensor to the object and come back again is measured and evaluated and converted into the respective distance.
Three technologies that get to the point
Future-oriented interfaces
Networked production and control processes in complex machine environments will determine the industrial future. Sensor intelligence is required for the highly complex process of converting physical signals into sensor information. Intelligent sensor systems from SICK are already being used to support dynamic industry processes involving real-time optimization and self-organization. For reliable network communication, it is essential that the required data is clearly defined and integrated into the networked data world. Selecting the right type of communication for a defined path plays an important part. Depending on your requirements, infrastructure and environment, distance sensors from SICK offer the ideal integration technology for your purposes.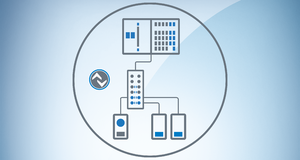 IO-Link
IO-Link offers new options for point-to-point communication between the system control and field level. Simple sensors and actuators become active process participants in an end-to-end automation network.
As senders, they report statuses to the controller via a master; as receivers they receive and process signals in reverse. This optimizes processes throughout the entire supply chain.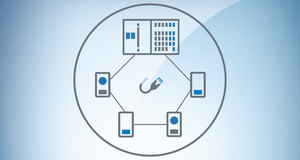 Ethernet and fieldbuses
With Ethernet and fieldbuses, all participating sensors and actuators can communicate with the system control as a sensor network. Depending on the interface type, different hierarchies and arrangements of the devices involved – so-called topologies – are available.
Ethernet and fieldbuses enable the processing of large amounts of data, the transmission of sensor data in real time and its direct integration into IT systems and clouds.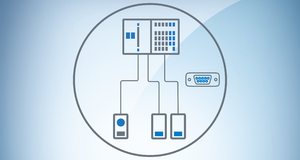 Serial
Serial interfaces are used for direct data transmission between a controller and a sensor or actuator.
During communication, all bits are transmitted individually and successively via a point-to-point connection.
The main advantages of serial interfaces are the low technical complexity and independence from the system setup.
Always correctly connected – quick, simple, efficient
Rugged multi-talent
From the smallest to very large distances: in a variety of indoor and outdoor applications, distance sensors from SICK measure and detect distances based on ultrasound, light or radar. In any environment, on various surfaces and individually adapted to the respective task. Even adverse ambient conditions such as dust, dirt, or fog hardly affect the measurement result.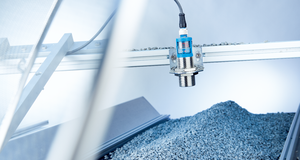 Level monitoring
Level control of liquids and bulk materials with ultrasonic distance sensors offers process reliability independent of the material, even under adverse environmental conditions such as dust, dirt or mist.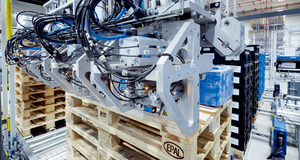 Precise positioning
In intralogistics, sensors from SICK support the optimal positioning of robot grippers from great distances by means of highly accurate edge detection of logistics boxes of any color.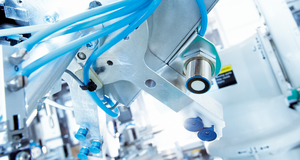 Positioning, presence monitoring, collision protection
Large-scale detection of objects with different shapes and reflective properties via ultrasonic technology maximizes machine flexibility for reliable positioning, presence control and collision protection.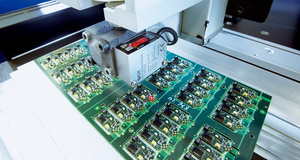 Monitoring of assembly processes
The OD Mini uses triangulation technology to control assembly processes in series production. Due to its small design, it is extremely flexible and can be used in many other applications.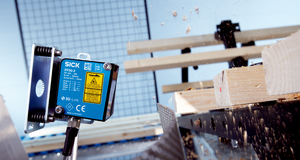 Precise and reliable measurement
Rugged distance sensors precisely and reliably detect the distance of the log to the deflector. The Dx50-2 therefore ensures that the log is fed perfectly onto the conveyor belt, even under very harsh conditions.
Quality check with displacement sensors
The OD5000 is the upper class of high-precision measuring triangulation sensors. Highly precise and quick coating processes in battery production can be monitored inline, optimizing the quality of serial products.
Versatile – distance sensors from SICK meet your challenges
More Sick products: